Auvesta Review - ¿Is it safe? - Read Before Buy Gold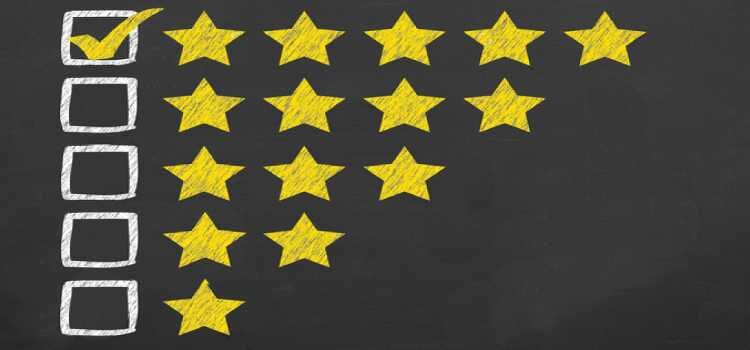 In this auvesta review we take a detailed look at all opinions on Auvesta to determine if it is a safe company to buy gold and precious metals or if it a scam.
---
Final score
In our opinion Auvesta is a serious and proven company with more than 30 years in the sector that has services that can help us create a wealth in gold and precious metals to protect our future in the medium long term if it is done in the way we detail .
Open depot in Auvesta
Auvesta Gold Investment and Savings Plans
If you are like me, surely you feel identified with one of the following thoughts at some point.
You have some savings and you want to invest in something that gives you security tomorrow and you don't want to be looking at the price every day.
Your money in the bank account is not only stagnant but it is also losing value every day due to inflation.
Your pension plan is losing money and you know that when you get it back, the taxes will leave you shivering.
You have heard that gold always appreciates in the long term, you have been told about Auvesta and you want to contrast opinions about Auvesta to know if it is a safe company to invest in gold.
If you have been or are in any of these situations, this opinion on Auvesta may be interesting to protect your savings or simply diversify your portfolio and create a wealth for your retirement in gold and precious metals.
Pros and Cons of Buy Gold in Auvesta

AUVESTA Edelmetalle AG
Industriestraße 4 D-83607 Holzkirchen, Germany
Telephone: +49 80 24 474 1144
Pros
You avoid the risk of storing gold or precious metal, if you choose to have it stored for you
Allows total flexibility in contributions, without deadlines or limits
You can get your money back on the same day in your bank account
It allows you to make transfers between deposits at the moment and without commissions
The gold or precious metal is your property by contract
Cons
The deposit opening process is not as intuitive as we would like
Considerations before buying gold with Auvesta
Who should NOT buy gold in Auvesta
You should not buy gold if you are not sure about saving for the future
You want to obtain a quick return or speculate with precious metals
In general, you should not buy from Auvesta if you are thinking short term
Who should invest in gold with Auvesta
You think that leaving the money that you worked so hard to earn in a savings account is not a smart way to protect and grow your assets
If you want to create a heritage in the medium-long term
You want to diversify your portfolio with precious metals
You are worried about your future and want to create a retirement plan
It is a way to unify an inheritance and easily partition it by the liquidity of gold
You are looking for an alternative to pension plans
You want to keep the government away from your assets so they can't seize you or touch your gold
What services does Auvesta have
Savings plan in physical gold and precious metals
A savings plan in gold and precious metals is similar to your savings account in the bank, only that your money is not affected by inflation and it is also away from the financial market and outside the reach of governments.
The savings plan gives you the freedom to make contributions at your own pace, when, how and how much you want.
With this plan you will be able to create assets to protect your future and protect yourself against inflation in the medium and long term.
It is a flexible plan without conditions, you do not have deadlines.
In this way we are buying gram by gram parts of Good Delivery bullion (purity 999.9), which are the official 400-ounce (12.44 kg) bullion used by central banks or governments to accumulate their gold reserves.
You have the opportunity to save in bullion and / or coins.
Being gold and precious metals, the underlying is not affected by inflation.
See in the image how inflation affects the price of a coffee over time and how it can affect your savings.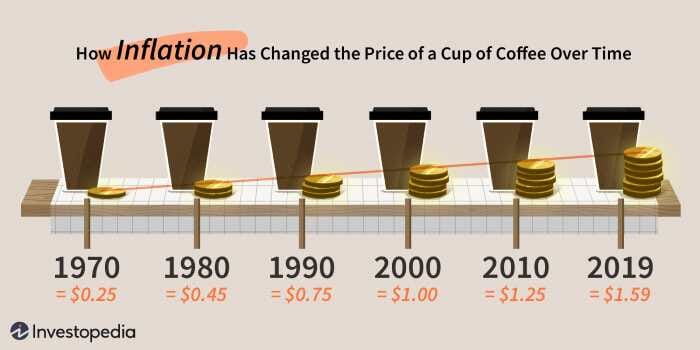 Source: Investopedia
---
Inflation is that silent thief who takes your money without you noticing.
Investment in gold, silver, platinum and palladium in bullion or coins
Auvesta also gives you the possibility to invest in gold, silver, platinum, palladium or investment coins in a traditional way.
You will be able to diversify and complement your investment portfolio.
For both services you have 2 storage possibilities:
Store it in vaults in companies specialized in custody of precious metals such as Brinks, Loomis and Prosegur.

Your bars are in the same place as the banks.

Ask to have it shipped to your home for storage. From 1 gram.
Auvesta service features
Flexibility
No obligation to purchase
No minimum term
No notice periods
Gold is allocated
What does it mean for gold to be allocated?
It means that the client owns the legal ownership of the gold or precious metal. In other words, the company cannot negotiate with our ingot.
The same does not happen with unallocated gold, which is similar to when we deposit money in our bank, that money is not reserved in our name. The bank can use our money to lend or invest it.
Gold price with Auvesta
Up to 15% cheaper than its competition.
With the savings plan, you can buy small pieces of precious metal bullion at cheaper prices than if you bought pieces of that size in any store.
Why is the gold price cheaper?
It is not the same to buy a 10 gram piece in a store than to buy 10 grams of a bullion to accumulate in a savings plan.
The bars or mini ingots of 1, 5, 10, 100 or 1000 grams that are bought in a store carry an extra price because they carry costs of minting, transport and are manufactured for sale.
The purchase price of Auvesta is about 10% of the price of the metal, since it is assigned metal (of your property) and therefore has associated some handling and storage costs.
Precious metal storage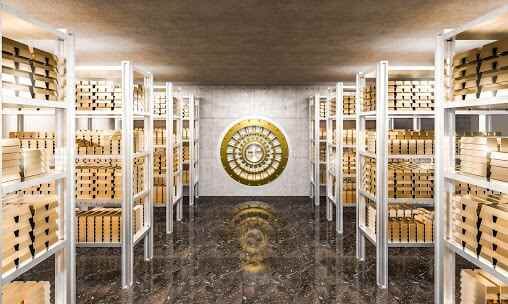 Storage is carried out in specialized companies that are responsible for safeguarding the gold of most of the world's reserves.
They are kept in Brinks, Loomis and Prosegur.
There is an insurance value of 50 million euros, mainly designed for the institutional client but which we can now enjoy by individuals.
The company has a daily stock certificate that can be viewed by each customer in their account.
Storage costs are cheaper than a safe in a bank for a simple reason: the bars are shared between several clients.
azón: the bars are shared between several clients.
Storage costs:
Savings plan: 0.08% / month (about € 8 for every € 10,000)
Investment: 0.025% / month (about € 25 per € 100,000)
Taxes
Investment gold does not have VAT in the European Union because it enjoys a special tax regime.

Investment gold is considered one more currency.

You will also not have to pay VAT when buying silver, platinum or palladium, as long as the metal is stored in free warehouses.

This may vary outside the European Union.
Immediate liquidity
If you decide to sell the amount you need, Auvesta transfers the money to your bank account in less than 24 hours or that same day for operations before 11 in the morning.
How the savings plan works at Auvesta
The savings plan consists of making periodic contributions to create our wealth gram by gram in gold, silver, platinum, palladium or coins.
In this video they show you how it works:
It has an entry premium of € 2,250 that they return to you with 5% bonuses on each successive contribution.
This means that, if we start with € 3,000 initially, € 2,250 goes to complete the premium and the rest, € 750 goes to the purchase of precious metal.
It works the same as when we buy a house and make a down payment, only if we back down on the house purchase, we lose the down payment.
Not here, in Auvesta you get the premium back with a 5% bonus on each contribution as long as there is a premium to recover.
There are 3 savings accounts:
Smart Account: From € 750 without bonus
Business Account: From € 1,500 with a 2.5% discount
Premium Account: From € 2,250 with a 5% bonus
The only one that allows you to recover the entire premium is the Premium account, so I do not recommend the Smart or the Business, since the conditions and the price are not worth it. Also, you do not get the entire premium back.
How is the premium recovered?
Imagine that you open a premium account with an initial amount of € 2,500:
Of which € 2,250 goes to complete the premium and € 250 to the purchase of gold.
By making a subsequent contribution we will have a 5% bonus that would be added to the purchase of precious metal
For example, we make a contribution of € 1,000, we would receive a 5% bonus (€ 50) for which we would buy gold worth € 1,050
Those € 50 are subtracted from the premium that they have to return to us. In this case we would have € 2,200 to recover = € 2,250 - € 50.
In this table it is a little clearer:
Savings Plan Simulation - Premium Account
# month
contribution
bonus 5%
gold quantity
total gold
remaining deposit
0
3250€
50€
1050€
1050€
2200€
1
1000€
50€
1050€
2100€
2150€
2
1000€
50€
1050€
3150€
2100€
3
1000€
50€
1050€
4200€
2050€
4
1000€
50€
1050€
5250€
2000€
...
If you want to start with less than € 2,250 there is no problem, I will explain it below in the frequently asked questions:
Transparency
Each client has access to the serial number of each bar and geographic location, as well as the total number of owners of that same bar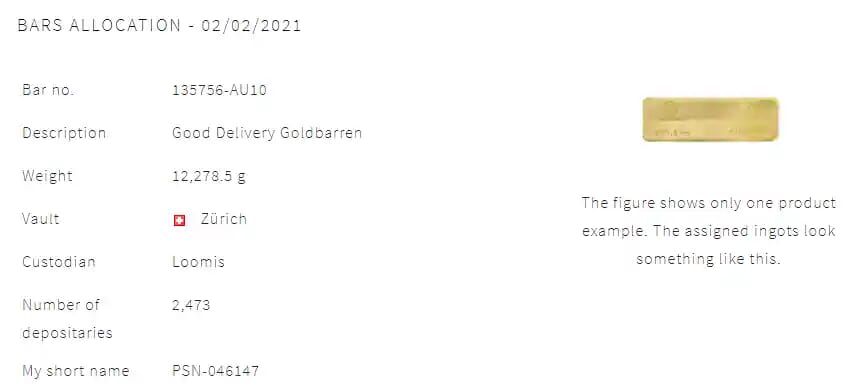 You can also see the company's metal stocks each day in a report within each personal account.
The DFSI (German Finance Ministry) designates a law firm that audits every 2 months that the amounts that appear in the client's warehouse coincide with the physical stocks in the custodial companies. We can also see that report in our account.
LBMA (London Bullion Market Association) certified manufacturers
Auvesta collaborates with manufacturers certified by the LBMA, which is the only association that certifies the quality of good delivery bars.
Commissions
Commissions only apply to the purchase price, there is no commission when we sell.
This is the only commission for your service.
There are only transport costs when we ask for the shipping and storage that the companies that offer the service have. No hidden fees appear.
Gold profitability
Gold has appreciated 600% since 2000, obviously no one can guarantee any future returns.
Despite the above, the growing demand for gold in electronic devices and jewelry, coupled with the fact that it is a rare commodity, makes it quite likely that the trend will continue to be upward.
Who is Auvesta
Auvesta Edelmetalle AG is a German company with more than 35 years of experience in the precious metals sector and present in more than 120 countries at the time of writing this review.

It has mainly been dedicated to institutional clients and as of 2012 it also offers its services to private clients.
It has been selected among more than 40 German metal brokers as the best German precious metals trader by the German magazine Focus Money and the DFSI (German Ministry of Finance).
Quality certificates
The company is audited by independent German companies who have awarded it the certificate for the best creditworthiness.

Only 1% of German companies get the Crefozert certificate.
Certifies the excellent credit rating
Among the 4.8% of the top-rated companies entre 4,7 millones
Auvesta Alternatives
There are several alternatives to invest in physical gold, although currently they do not exactly have the regular purchase service.
Like:
Conclusion
In our opinion Auvesta is a serious and proven company that has services that can help us to easily create a wealth in gold and precious metals to protect our future in the medium long term.
Storage prices are relatively low and also deposits are insured, compared to storing them on our own or keeping them in a safe at a bank.
And finally, it offers immediate liquidity to transfer our money to our account without commissions. The same day or the day after the order the money is in our account.
Frequently Asked Questions (FAQ)